Sir Handel is an engine who works on the Skarloey Railway.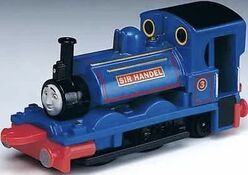 Sir Handel
Number: 42
First Release: 1996
Bio
Owen Bell Artwork Card:
Brought up under instruction from Duke, the oldest of engines. Generally is of the opinion that he knows it all and should be boss. Given to the occasional tantrum and can be rather bad tempered, but gets on with the job none the less.
Historical Note
Sir Handel is based on a narrow gauge, industrial tank engine, built in England in the 1870s.
Models
Regular (1996)
Metallic (1999)
Falcon (2002, UK only)
Trivia
Sir Handel's prototype model features a black running board, white buffers, and a blue smokebox and funnel.
Gallery