Thomas & Friends ERTL Wikia
We have over 255 articles regarding the now-discontinued Thomas & Friends ERTL line, including the Vehicles, Sets, and more!
Welcome to Our Wiki!
Feel welcome to help update and improve articles. Until then feel free to explore, read up and help out and have fun!
Thank you - AddictStudios
Which Culdee Fell Railway character has the best ERTL model?
Featured Article
'Arry (originally labelled as Iron 'Arry) is a diesel who works at the Smelters Yards. He has a twin named Bert.
Featured Image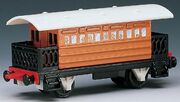 This featured image has been randomly selected from our wiki! Click on the image to find out what pages the image is on, when the image was uploaded, and who uploaded it.
Latest activity